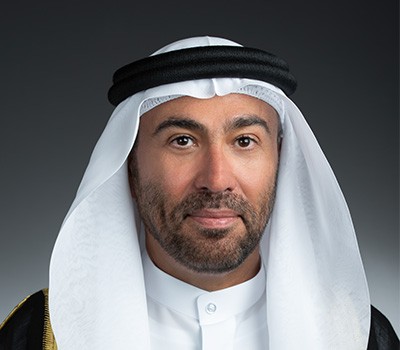 His Excellency Ahmed bin Ali Al Sayegh
Minister of State (UAE)
H.E. Ahmed Ali Al Sayegh was appointed as Minister of State to the United Arab Emirates (UAE) Cabinet in September 2018. As Minister of State, H.E. Al Sayegh is responsible for the economic and trade affairs within the Ministry of Foreign Affairs (MoFA). H.E. Al Sayegh supports the government actively in its initiatives and efforts to drive the nation's economic diversification plans and the sustainable future of the UAE.
His Excellency holds a number of positions, including Member of the Board of Directors and Executive Committee of Abu Dhabi National Oil Company (ADNOC), Board Member of Abu Dhabi Fund for Development (ADFD), Deputy Chairman of Emirates Nature - WWF and Co-Chair of the UAE-UK Business Council.
He has formerly served in several key capacities, such as Chairman of Abu Dhabi Global Market (ADGM), Founding Chairman of Aldar Properties, Founding Chairman of Abu Dhabi Future Energy Company (Masdar), Founding Board Member of Etihad Aviation Group, Founding Board Member of Mubadala Development Company, Deputy Chairman of First Gulf Bank, and held senior positions in Abu Dhabi National Oil Company (ADNOC) and Abu Dhabi Investment Company (Invest AD).
H.E. Al Sayegh holds a Bachelor's degree in Economics from Lewis & Clark College, USA.