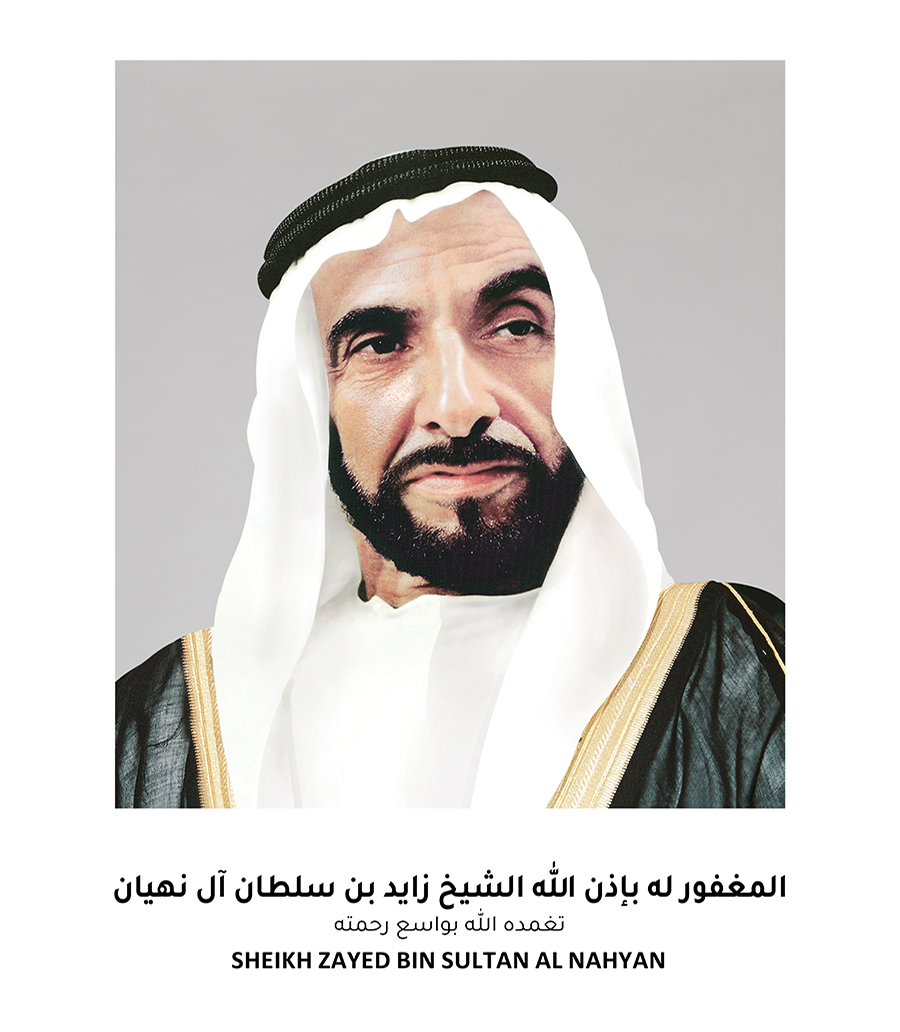 Sheikh Zayed bin Sultan Al Nahyan
Known as the Father of the Nation for his role in forming the United Arab Emirates, the late HH Sheikh Zayed bin Sultan Al Nahyan was the first President of the UAE. He served in this position since the formation of the UAE on 2 December 1971 until he passed away in 2004. He also served as the Ruler of the Emirate of Abu Dhabi from 1966 to 2004. Born in the city of Al Ain, Sheikh Zayed was the youngest of the four sons of HH Sheikh Sultan bin Zayed Al Nahyan, Ruler of Abu Dhabi, from 1922 to 1926.
Sheikh Zayed was a good listener and an unbiased dispute mediator. He was also renowned for his patience, vision and wisdom, qualities that earned him the title of 'the wise man of the Arabs.' He ensured that all UAE citizens were involved in the nation's collective success. His vision led the UAE becoming the GCC's second-biggest economy after Saudi Arabia and the third-largest in the Middle East, according to many international major reports, as well as the most important financial and economic centre in the region. The process of establishing the Federation started with the late Sheikh Zayed paving the way for unity to ensure the Trucial States' survival and eventually establish a federal authority when faced with serious threats.
On 16 January 1968, after the announcement of Great Britain's withdrawal from east of Suez and the Gulf, Sheikh Zayed established closer ties with the other emirates. He went immediately to Dubai to discuss the next steps with the then Ruler of Dubai, the late Sheikh Rashid bin Saeed Al Maktoum. Finally, on 18 February 1968, both Sheikhs agreed on a federation. They envisioned a Federation that would include the seven emirates that made up the Trucial States and Qatar and Bahrain.
Three and a half years later, with the end of British withdrawal, Sheikh Zayed again engaged Sheikh Rashid and the other Rulers in the Trucial States in decisive discussions, which determined the vital role of the UAE. Sheikh Zayed's enthusiasm was a critical factor in the formation of the UAE, he also won support for the way he sought consensus and agreement among his fellow Rulers.
Eventually, six Emirates, except Ras Al Khaimah, followed Sheikh Zayed united to establish the UAE, which formally emerged on the international stage on 2 December 1971. The Rulers of the other Emirates unanimously elected Sheikh Zayed as the President of the UAE. Ras Al Khaimah acceded to the new Federation on 10 February 1972.